Report on Chinese People Renouncing the Chinese Communist Party via Internet Circumvention Technologies
Dynamic Internet Technology (DIT)
June 2005
Executive Summary
This report summarizes a noteworthy phenomenon in users of Internet circumvention technologies in China: renouncing the Chinese Communist Party. Ever since the Epoch Times published the Nine Commentaries on the Communist Party (http://www.theepochtimes.com/jiuping.asp) and launched the "Renouncing the Chinese Communist Party" web site (http://tuidang.dajiyuan.com/) to address the demand of Mainland Chinese quitting the Party, over 2 million people have renounced the Chinese Communist Party (CCP) as of June 2005.
The "Nine Commentaries" phenomenon started on the Internet as many users inside China employed DIT¡¯s service, DynaWeb, to circumvent Internet censorship. In this report, we will present the data and analysis of this newly emerged phenomenon.
Access to the "Nine Commentaries"
Since the Epoch Times website is blocked in China, many Chinese have used the services of DynaWeb to access the web site to read the "Nine Commentaries." Our records show that between November 19, 2004 and the end of April 2005, the first of the "Nine Commentaries" received 71,000 page views. Page views for all nine commentaries combined on the DIT website add up to 307,202 as of May 31, 2005. Please refer to the table below for details. The output results from the webalizer tracking tool are also viewable directly on the DIT website at: http://www.dit-inc.us/work/9phtml.
Through our email technology, between December 15, 2004 and February 2005, DIT sent out the "Nine Commentaries" to 2.3 million email users in China. According to previous calibration of email delivery, around 5-10% of recipients actually open such mass mailing emails. Since 3 emails were sent to each account, we estimate that 345,000 people looked at least at one of the "Nine Commentaries." As reference, the "Sun Zhigang case "1, one of the Top 5 news stories in China in 2004, received about 1 million page views on sina.com, a major Internet news portal in Mainland China.
On websites such as http://www.xinshijue.org/, the Nine Commentaries are accessible in various media formats specifically designed for making VCDs. Visitors are encouraged to download those files and make VCDs that can then be distributed to others in mass. Among those files, a video file download link (http://xinshijue.org/cd/down/9ping/9p.iso) received around 500,000 hits by April 2005.
Number of CCP Membership Renunciations
| | | | | | |
| --- | --- | --- | --- | --- | --- |
| | December | January | February | March | April |
| Number of People Renouncing | 2,546 | 4,620 | 70,133 | 501,708 | 598,367* |
| Number of Renunciation Statements | 2,541 | 3,725 | 29,156 | 107,160 | 112,444* |
| Average Number of People per Statement Submission | 1.00 | 1.24 | 2.41 | 4.68 | 5.32 |
| Cumulative Number of People | 2,546 | 7,166 | 77,299 | 579,007 | 1,177,374 |
| Number of Renunciations through DynaWeb | | | 21,755 | 65,354 | 55,261 |
| Percentage of Renunciations through DynaWeb | | | 74.61% | 60.98% | 49.14% |
*Source: the Epoch Times

Demographics of Renunciations
People from 29 provinces or directly governed cities submitted renunciation statements online via DynaWeb. People from Beijing are especially active: while only comprising 4.3% of the total Internet users in China, renunciation requests from Beijing composed 15% of the total. Shanghai has only 1.6%. These demographic data conform to the view that Beijing residents are more politically savvy with many having experienced the June 4th massacre, while Shanghai residents are more economically oriented.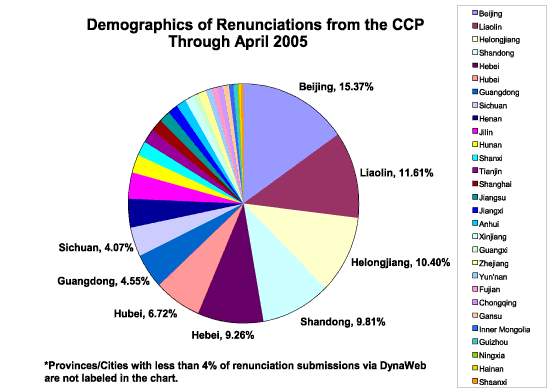 Looking forward, the Internet distribution of the Nine Commentaries will continue with anti-censorship/circumvention tools being the dominant way to post statements of renouncing CCP membership. We predict that the ripple effect will play a more important role in sustaining the accelerated speed of announcing resignations of the CCP. The ripple effect itself can result in an exponential increase of renunciations from the CCP. As the ripple effect reaches more people, it will alleviate current obstacles such as lack of interest and fear, making the effect, in turn, even stronger.
For more information on Dynamic Internet Technology, please visit our website:
http://www.dit-inc.us/
or contact us at:
contact@dit-inc.us or 888-384-5505

1. The ¡°Sun Zhigang Case¡± was a famous story on the Internet. It was about an innocent young man who died in police custody for walking on the street without an ID. This story was first reported on the most used Chinese Internet portal, Sina news, and received about 1 million page views.